11 Days Northern Thailand
Family Exploration Itinerary
Contact us for 2016 dates
Day One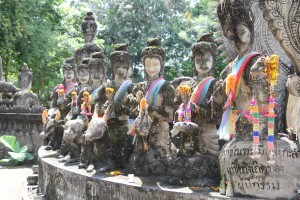 Arrive in Bangkok: You've arrived! Settle in with your family and relax. Recover from the flight and adjust to the new time zone. Enjoy the pool and quiet neighborhood.
Day Two
Chatuchak Market: Explore the largest market in Thailand, 35 acres of tribal crafts, clothes, food, and live animals.
Thai Culture intro from our Native Thai Bangkok coordinator on basic do's and don'ts.
Overnight Train to Chiang Mai. A magical experience, a chance to mix with the great diversity of Thailand, from Thai grandmothers and students to European families and backpackers. (breakfast included)
Day Three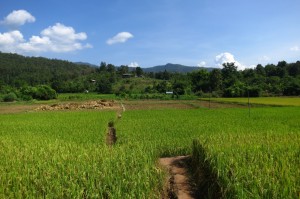 Stunning close-up and panoramic views from train of jungle, rice paddies, and villages in the morning approach to Chiang Mai.
Traditional Style Guesthouse BaanBooLoo in the center of the city will be our home for the week. PHOTOS >
Lunch at a restaurant popular with the locals known for Kao Soi noodles, the regional specialty.
Basic Thai Language – learn greetings and important words and phrases.
Street Food Orientation – how to choose safe and tasty food from street vendors.
The Sunday Walking Street Market– performers, food, hilltribe crafts.
(lunch, light dinner included).
Day Four
Ma Pien's Organic Farm in a small village near the river. Organic farmer Ma Pien will teach us about tropical vegetation, show us how to identify and pick edible plants, and make herbal teas. We will help her with her harvest. PHOTOS >
Alfresco lunch, papaya salad we make from ingredients picked in her garden.
Explore the village of Baan Tah Kwang
(breakfast, lunch included)
Day Five
Mountain Forest Hike up Doi Suthep mountain. Learn about the forest, the butterflies and birds, and the history of the trail with birding expert Chintana Suwawan.
Monastery Wat Palad, (our destination stop half-way up the mountain). Enchanting, moss-laden, 650 year-old temple, a spiritual refuge for the people of Northern Thailand. (Snack and rest by stream)
Monastery Wat Doi Suthep (drive or hike to the top of the mountain), tour one of the most sacred Theravada Buddhist temples in northern Thailand. (Children and adults will break off into separate groups for age-appropriate tours.)
Mountaintop Lunch at a restaurant near the monastery.
(breakfast, snacks, lunch included)
Day Six
Children's Farm. Foster home to 35 children from the border villages, mostly abandoned or orphaned. The children learn organic gardening, recycling, composting, and cooking, and gain confidence practicing their hospitality skills with visitors. They will teach us about their farm and take us on a jungle walk to share what they have learned about nature and the tropical ecosystem. PHOTOS >
Lunch Cooked by Children from food picked together in their gardens.
Build a Dam with the children to help prevent the stream flooding in the rainy season.
(breakfast, lunch included)
Day Seven
Buddhism and local Thai Traditions:

Learn about the architecture, history, traditions, and symbols depicted in the elaborately decorated local temples.
Visit a Buddhist monastery school, to meet and learn about the boys training to be monks, and what their lives are like.
Ask questions at a private "monk chat" at Wat Umong, with an English-speaking monk. He will talk to us about his life as a monk, and the children will have a rare opportunity to ask him questions.

Walking Tour with a local Thai Teenager (for the teens in our group) who will show them how she and her friends experience Chiang Mai, taking them to favorite haunts, answering questions and giving them a chance to hang out Thai style.
Thai Cooking Class for Children (giving parents some time alone, or they are welcome to join us). The kids will learn how to prepare some simple dishes, eat dinner together, and play games.
(breakfast, and dinner for children only included)
Day Eight
Elephant Reserve outside Chiang Mai. The elephant, a well-recognized symbol of Thailand, has a complicated history, with numbers plummeting due to loss of habitat and abuse. We have done extensive research to choose the right elephant sanctuary with ethical motives and practices, where we can spend time with them in a non-exploitative environment.
Prepare Monk Offering. We will learn about the rituals surrounding offering of alms to monks and its importance in Thai culture.
(breakfast, lunch included)
Day Nine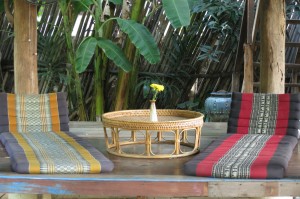 Early Morning Monk Offering on Main Road. Offering alms to some of 300 monks who come down every day from the mountain to collect their necessities.
Family Day. We can organize a day of volunteering or an activity for your family based on special areas of interest, such as cooking, hiking, biking, bamboo rafting or white water rafting, music …
Or take the day to relax, swim, try a new restaurant, and stroll the Saturday market in the evening.
(breakfast included)
Day Ten
Return flight to Bangkok
Afternoon arrival in Bangkok and transfer to our hotel.
(breakfast included)
Day Eleven
Departure! Transfer to airport for those flying home, with tour options available for families with night flights or those who have chosen to add extra days. Guests can use the hotel pool and showers until departure.
(breakfast included)
Please note: you are free to substitute alternate activities on any day, however, we are unable to refund participants for any activities or portion of the trip in which they choose not to participate.
Changes may be made in the itinerary at our discretion for any reason we deem necessary, including weather or other factors out of our control.